I've discovered that the title of this post might have been a bit unclear. Hint: If I had planned things better, the post would have included three pictures. Does that help?
Meanwhile, let me share Zach's photo of my latest culinary experiment: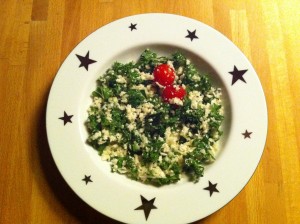 Cauliflower and Kale Salad
I had to leave out the garlic from the recipe (garlic is a guaranteed heartburn trigger for me, and I'm not taking any chances until I find out what's going on with these crazy symptoms).
We both thought the salad was good but needed . . . something.
When in doubt, marcona almonds are a pretty good something!